Villa Bluewater in Cape Coral for rent
Dream beaches and sun guaranteed!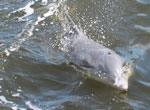 Book now your summer vacation
Jun 01, - Nov 30, 2021
7 days 1216 USD
(incl. tax, cleaning,
check in)
Mobile version of this web!
Info's
Use our Car GPS for free!
More Info's
Our vacation home is located in the SE of Cape Coral
Look forward to an unforgettable vacation in our comfortable and fully equipped house in which you can find everything you need in order to enjoy your dream vacation.
With the boat you are only minutes away from the Caloosahatchee River where you can experience the island world with its tropical vegetation, wildlife and fantastic beaches. You are bound to be speechless the first time you have dolphins joining you on your adventure just as we were. The large screen protected pool area invites you to go sunbathing or to take a relaxing swim in the solar-heated pool. From the boat dock, which is equipped with a 10,000 lb. boat lift, you can fish or simply enjoy the beautiful view of the wide saltwater canal.
You can satisfy your culinary desires by choosing one of the many restaurants, which you can reach by car or boat, or you can choose to have an evening barbeque by your pool which we have equipped with a grill.
We are looking forward to your visit.